Allison Iraheta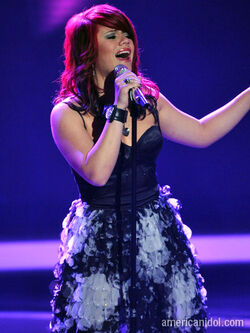 Birth Name
Allison Iraheta
Audition City
San Francisco, California
Allison Iraheta (born April 27, 1992 in Los Angeles, California) is an American rock singer-songwriter of Salvadoran decent. She won the reality television competition Quinceañera and finished fourth on the 8th season of American Idol. She is now the lead singer of the band Halo Circus.
QuinceañeraEdit
In 2006, Iraheta won the Telemundo reality show, Quinceañera. The prize was a reward of USD 50,000 and a recording contract, which was never granted.
Performances/Results
Edit
| | |
| --- | --- |
| Song choice | Result |
| "Volverte a Amar" | Advanced |
| "Kiss and Say Goodbye" | Advanced |
| "Total Eclipse of the Heart" | Winner |
American Idol
Edit
Iraheta auditioned for the eighth season of American Idol in San Francisco, California. Judges Simon Cowell and Randy Jackson declared that she is "one to watch in this competition" after her rendition of Heart's "Alone" earned her unanimous praise from the judges, with Paula Abdul saying she could "sing the telephone book". She was the top voted female of Group 2 and, along with Adam Lambert and Kris Allen, advanced directly into the Top 13.
In her Top 10 performance, she performed "Papa Was a Rollin' Stone". This earned her further praise from the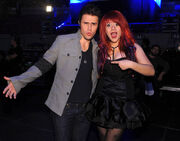 judges, with Kara DioGuardi stating that her voice "comes from God; you can't teach that. You sing like you've been singing for 400 years". During her performance in the Top 8, Iraheta sang "I Can't Make You Love Me". After she sang that song, Jackson compared her to first season winner Kelly Clarkson. Then DioGuardi said, "You know what? Let's go make a record!" On the first Top 7 night, Iraheta sang "I Don't Want to Miss a Thing", causing Cowell to say "We can see you all the way through the end now. You're the girls' only hope of winning this competition." Abdul compared her to Lambert, saying that the two possessed "special sauce" that brought magic to their performances. On the second Top 7 night, Iraheta sang "Hot Stuff", delivering what Cowell described as "a brilliant performance". The following night,
Lil Rounds
was eliminated from the competition, making Iraheta the last remaining female contestant in the competition. In the top 5, Iraheta sang "Someone to Watch Over Me". Her voice was described as sounding like Pink, "but with 9,000 more octaves" by Jackson, while DioGuardi remarked, "you converted some fans tonight... if that doesn't land you in the finals, I don't know what will!" The following night, it was revealed that Iraheta had received the highest or second-highest number of votes. In the top 4, Iraheta sang "Cry Baby" and "Slow Ride". After her performance of "Cry Baby", Cowell said her growth throughout the competition was "staggering" and praised her for her "complete confidence and terrific vocals". Her performance of "Slow Ride" with Lambert received rave reviews from the judges, with DioGuardi describing her as a "rock goddess". The following night, Iraheta was eliminated in 4th place, to the shock of many viewers and commentators. The celebrity mentor of the week, Slash, commented "Allison didn't deserve to be voted off so soon. She has amazing potential." American Idol music director Rickey Minor was "absolutely shocked" at her departure.
She became Kelly Clarkson, Jennifer Lopez and Michael Johns's favorite contestant of Season 8. Country singer and actress Reba McEntire also mentioned Iraheta being one of her favorites, in addition to Allen and Lambert. She was also the "absolute favorite" contestant of Melinda Doolittle, who has been "voting and pulling for her since day one".
Performances/Results
Edit
Week #
Song choice
Result
Audition
"(You Make Me Feel Like) A Natural Woman"
Advanced
Hollywood
[not aired]
Advanced
Hollywood
[not aired]
Advanced
Hollywood
"Because of You"
Advanced
Top 36/Semi-Final 2
"Alone" why?
Advanced
Top 13
"Give In to Bob
Safe
Top 11
"Blame It on Your Heart"
Bottom 3
Top 10
"Papa Was a Rollin' Stone"
Safe
Top 9
"Don't Speak" because I Can
Bottom 3
Top 8
Look at my awesome hair
Safe
Top 7
"I Don't Want to Miss a Thing" - Armageddon
Safe
Top 71
"Hot mama
Bottom 3
Top 5
Someone To Watch Over Me
Top 2
Top 4
Cry Baby
Slow Ride with Adam Lambert
Eliminated
Note 1: Due to the judges using their one save to save Matt Giraud, the Top 7 remained intact for another week.
Post Idol
Edit
After her elimination, Iraheta made appearances on Live with Regis and Kelly, The Ellen Degeneres Show, Tonight Show with Jay Leno as well as some local FOX television affiliates and numerous radio stations across the country.
Iraheta performed on the Grand Finale of American Idol season 8, including a duet of "Time After Time" with Cyndi Lauper.
Iraheta's debut album Just Like You was released on December 1, 2009 on Jive Records but due to low album sales, the label dropped Iraheta in September 2010. She later parted ways with 19 Recordings soon after.
Just Like You has sold 103,000 copies to date.
Return to Idol
Edit
Iraheta returned to Idol to perform with season 10's Pia Toscano and season 11's Jessica Sanchez on Jennifer Lopez's new song "I Luv Yuh, Papi" on March 20, 2014. Iraheta was a part of the Idol band as a backup singer.
Official Account
Edit
Halo Circus
Edit
After taking a year off to regroup and rediscover who she was as both a singer and a person, Iraheta went on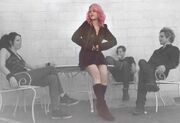 Twitter to announce that she is now the lead singer of a band called Halo Circus. The band's first gig was on January 26, 2013 at The Troubadour in Los Angeles. They later announced on July 23, 2013 that they signed a deal with Badlands Records, a subsidiary of Manimal Vinyl. Their first single, "Gone", was released on October 8, 2013 with their debut album coming out within the year. Their second single, a cover of the Duran Duran song "Do You Believe in Shame?", was released on July 15, 2014.
Despite having an album done, the band announced on their Facebook page on February 16, 2015 that they were re-recording it due to changes in the music and them wanting to capture the energy of their live shows. Their debut album, Bunny, was released on June 22, 2016. Their EP, ​The East Lansing Sessions​, was released on May 5, 2017.
Minor lineup change
Edit
The band did undergo one minor change to their lineup when on June 14, 2013, it was announced that drummer Valerie Franco was leaving the band. She was replaced by Veronica Bellino. David Immerman also left the band and was replaced by guitarist Brian Steed.
Change in musical direction and new album
Edit
Before heading out on the road to promote both Bunny and The East Lansing Sessions, circumstances came up that resulted in guitarist Brian Steed and drummer Veronica Bellino leaving the band. Iraheta and her husband Matthew Hager, whom she had formed Halo Circus with, decided to continue with the tour & decided to incorporate electronic elements from both Bunny and The East Lansing Sessions into their set without trying to imitate live drums or live guitars. The couple then decided to continue on as Halo Circus but change the sound from alternative rock to electronic. Their first album as a duo, Robots and Wranglers, which features the single "Narcissist, will be released on March 16, 2018.
Personal Life
Edit
On January 27, 2013, Iraheta married Halo Circus bassist and producer Matthew Hager. The couple had met through their former bandmate, David Immerman, whom Hager was working with, 
before the band was formed.
Iraheta and Hager's marriage was revealed through The Hollywood Reporter on May 21, 2013. Iraheta confirmed the marriage herself via Twitter on May 23, 2013.
Discography
Edit
Halo Circus
Edit
​EPs:
​The East Lansing Sessions (2017)
Albums:
Bunny (2016)
Robots and Wranglers (2018)
Singles:
"Gone" (2013)
"Do You Believe in Shame?" (2014)
Solo albums
Edit