Adam Mitchel Lambert (born January 29, 1982) is an American singer-songwriter and actor from San Diego, California. He was the runner-up on the eighth season of American Idol. In addition to his solo music career, he also performs as a member of the band Queen + Adam Lambert.
Lambert later branched out into acting, appearing on the Fox show Glee in fall 2013. He will be joining the judging panel on season 8 of X Factor Australia
Early Life
[
]
Adam Lambert was born in Indianapolis, Indiana. He is the son of Leila, an interior designer, and Eber Lambert, a program manager for Novatel Wireless. He has a younger brother, Neil.
Lambert's family moved to California shortly after his birth and he was raised in Rancho Peñasquitos in northeastern San Diego. He attended Deer Canyon Elementary School, Mesa Verde Middle School, where he was a winner in the Airband competition (featuring Michael Jackson's "Thriller"), and Mount Carmel High School (MCHS), where he was in theater, choir, and frequently performed vocals with the school's jazz band "MC Jazz". He even got a chance to perform in local professional productions of such plays as Hello, Dolly!, Peter Pan, and The Music Man.
Lambert was raised in his mother's Jewish religion. He has performed in Hebrew at Jewish events, singing songs such as "Shir LaShalom" at a 2005 tribute concert to assassinated Israeli Prime Minister Yitzhak Rabin. Lambert attended Temple of the Arts in San Diego and has performed at the Kol Nidre service on the Jewish holiday of Yom Kippur. Lambert also performed in Jewish-themed The Ten Commandments: The Musical as Joshua, performing the song "Is Anybody Listening?"
American Idol
[
]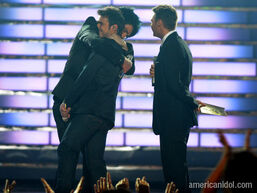 Lambert auditioned for the eighth season of American Idol in San Francisco, California. During his initial audition, he sang "Bohemian Rhapsody". Both Kara DioGuardi and Simon Cowell criticized him for being theatrical; however, he advanced to Hollywood. In the semifinals, Lambert was voted into the Top 13, joining fellow Group 2 performers Allison Iraheta and Kris Allen. Upon making the Top 13, Lambert and Allen became roommates in the Idol Mansion.
On Top 13 week, he sang "Black or White" leading to praise from all four judges, with Paula Abdul predicting that he would go on to the finals. The following week, Lambert sang a modified version of "Ring of Fire". While Randy Jackson, Kara DioGuardi, and Paula Abdul all liked his performance, Cowell called it "indulgent rubbish". On Motown night, Lambert distanced himself from his rocker persona, singing a slowed down, acoustic version of "The Tracks of My Tears". The judges all liked it, and Smokey Robinson, the week's mentor and the original singer-songwriter, gave Adam a standing ovation. For his Top 8 performance, Lambert sang the 2001 Gary Jules arrangement of "Mad World". Because the show had exceeded its time slot, only Cowell gave a critique, which he did by simply giving Lambert a standing ovation. During the results next night, the other judges agreed that a standing ovation was the best critique of Adam's performance. For his second Top 7 performance, Lambert sang "If I Can't Have You", delivering what DioGuardi described as his "most memorable performance", while Cowell described his vocals as "immaculate". Abdul was reduced to tears, with host Ryan Seacrest joking that Lambert had melted her into a "pool of Abdul". In the Top 4, Lambert was the first to sing, performing "Whole Lotta Love". Cowell commented, "that was one of my favourite performances... nobody can top that now", while Abdul, punning on the song's title, described Lambert's performance as "a whole lotta perfect".
Season 7 American Idol winner David Cook stated that Lambert and Allen are his favorites of Season 8. Country music singer and actress Reba McEntire has echoed the same opinions, also adding Iraheta to her list of favorites.
Photos of Lambert kissing a man were shown and discussed by conservative commentators on The O'Reilly Factor; they agreed that the images would likely have no impact on the competition because the focus remains on the singers' talent. Lambert confirmed that the photos were of him, stating he had nothing to hide and has always been open about his life.
For the top three show, Lambert chose to sing at his alma mater, Mt. Carmel High School. While there, he played two songs, "Black or White" by Michael Jackson, and "Mad World" by Tears for Fears. After his performance, May 8 was declared "Adam Lambert Day" in San Diego. This was announced by the mayor of San Diego, Jerry Sanders.
On May 20, 2009, Lambert was announced as the runner-up for the eighth season of American Idol, with Kris Allen claiming the title. Lambert performed a medley with rock band KISS during the final episode.
On May 20, 2009, Lambert was announced as the runner-up for the eighth season of American Idol. Lambert performed a medley with rock band Kiss during the final episode. His version of the winning single "No Boundaries" was later released on iTunes alongside American Idol winner Kris Allen's version.
Post-Idol
[
]
Billboard magazine confirmed on May 22 that Lambert is working on a solo album, which is expected to be released on November 23, 2009. He stated that he would love to work with Slash, stating "When I was working with Slash I felt at home." Lambert also stated that his solo album will be eclectic, and have a variety of sounds. Rock group Queen, with whom Lambert performed on the season finale, are said to be considering asking Lambert to be their new frontman. Lambert was a guest on Larry King Live (guest-hosted by Ryan Seacrest) along with Kris Allen, judge Paula Abdul, and the rest of the top ten finalists. He has said that he plans to create a multi-genre album calling it a "rock-pop-electronic-dance thing". Lambert has confirmed via Twitter that his album is scheduled to go on sale November 23, 2009. He has been working with producers Greg Wells, Ryan Tedder, Max Martin, Sam Sparro, RedOne, Dr. Luke, and Linda Perry, among others, in the run-up to the album's release. Aimee Mayo stated on Twitter that she wrote at least two songs for Lambert, one co-written with Ryan Tedder and Chris Lindsey and, another with Ferras, the latter of which was not included for selection. Lady Gaga also reportedly wrote a song that they have recently spent some time recording. On October 28, 2009, Lambert announced via Twitter that his lead single from his debut album would be "For Your Entertainment", a song that was produced by Dr. Luke. The following day, Lambert announced that the single would debut on Ryan Seacrest's radio show on October 30, 2009. Lambert was recruited to record the soundtrack "Time for Miracles" for the action movie 2012 that was released on October 20, 2009 as a side project single. The song was lauded ahead of its release by Queen's guitarist, Brian May, who described himself as being "completely blown away" upon hearing the track. On June 19, 2009, Hi Fi Recordings and Wilshire Records revealed that they would be releasing On With the Show, a compilation of songs Lambert had recorded prior to American Idol while working as a session musician.The album's first single is "Want." Lambert later issued a statement through 19 Entertainment stating, "Back in 2005 when I was a struggling artist, I was hired as a studio singer to lend my vocals to tracks written by someone else. I was broke at the time and this was my chance to make a few bucks, so I jumped at the opportunity to record for my first time in a professional studio. The work I did back then in no way reflects the music I am currently in the studio working on." On November 17, Adam's album was released with a new name: "Take One." The album is available on iTunes. Since Idol he has won two different awards: the Young Hollywood Award for Artist of the Year and the Teen Choice Award for Reality/Variety Star. Lambert recently wrapped up the American Idols LIVE! Tour 2009 with his fellow Top 10 contestants; the tour visited 50 cities in the United States and Canada from July 5 to September 15, 2009. Later that year, Lambert performed at the 2009 American Music Awards.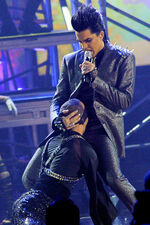 The performance soon became controversial as it featured Lambert kissing his male keyboardist, grinding a dancer's head against his pelvis, and grabbing the crotch of another. The View stars Barbara Walters and Elisabeth Hasselbeck slammed the performance with Elisabeth saying "there was a sexual aggression there," in terms of keeping Lambert in the public's eye and adding controversy at the same time, it was "right on." Lambert told CNN that the kiss was "in the moment" and was not a planned part of his routine. Lambert said those who object are engaging in "a form of discrimination and a double standard," considering that for decades, "women performers have been pushing the envelope." Lambert told Rolling Stone magazine, "Female performers have been doing this for years — pushing the envelope about sexuality — and the minute a man does it, everybody freaks out. We're in 2009 — it's time to take risks, be a little more brave, time to open people's eyes and if it offends them, then maybe I'm not for them. My goal was not to piss people off, it was to promote freedom of expression and artistic freedom."
For Your Entertainment, Acousitic Live! & Grammy nomination (2009-2012)

[

]
Lambert's debut album For Your Entertainment was released on November 23, 2009 on RCA Records. The album's second single, Whataya Want From Me, co-written by Pink, earned Lambert a Grammy nomination for Best Male Pop Vocal Performance. He later released an EP, Acoustic Live!, on December 6, 2010. Lambert released a live album called Glam Nation Live on March 22, 2011.
Trespassing (2012-present)

[

]
Lambert's second album, entitled Trespassing, will be released sometime in 2012. The album's first single is called "Better Than I Know Myself", which was released to digital retailers on December 11, 2011. He was also be the focus of an episode of the popular VH1 series Behind The Music, which aired on August 7, 2011. Lambert returned to American Idol to perform on May 17, 2012. He also hosted and performed at the VH1 Divas concert on December 16, 2012.
Working with Queen
[
]
After months of speculation, it was announced on February 20, 2012 that Lambert would take the stage with the legendary rock band Queen to headline the UK's Sonisphere Festival on July 7, 2012. The band also announced on February 28, 2012 that Lambert would be joining them onstage at Olympic Staduim in Moscow, Russia on June 30, 2012. Lambert continues to tour with Queen as a member of Queen + Adam Lambert and has even recorded with them despite no album currently in the works.
Split with 19 Recordings and leaving RCA Records
[
]
On January 14, 2013, it was announced that Lambert had split with 19 Recordings. He was still signed to RCA Records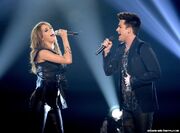 at the time and was about to start work on a third album until July 12, 2013 when a letter written by Lambert to The Hollywood Reporter's Shirley Halprin revealed that he was leaving RCA due to creative differences. According to Lambert in his letter, the label requested that he make an '80s cover album, but he refused, resulting in him leaving. He has since signed with a new label.
He returned to American Idol on May 16, 2013 for the finale and performed the song "Titanium" with Angie Miller, which received a positive reaction from fans.
Return to Idol
[
]
Lambert, along with season 5's Chris Daughtry, returned to Idol in season 13 to assist judge turned in-house mentor Randy Jackson in mentoring that season's crop of contestants during a workshop. Both Lambert and Daughtry confirmed the news of their return to the show on Twitter.
Lambert also returned as a guest judge, subbing for Keith Urban, who had left to be with his wife, actress Nicole Kidman, and their family when her father Antony unexpectedly passed away in Singapore on September 12, 2014.
New record deal
[
]
Lambert announced to Billboard on January 15, 2015, the day his guest judge stint on Idol was aired, that he had signed a new deal with Warner Brothers Records. Swedish songwriter-producers Max Martin and Shellback would executive produce the album. The album, The Original High, was released on June 12, 2015 with the first single, "Ghost Town", coming out on April 21, 2015. The album has received positive reviews and debuted at number 3 on the BIllboard 200. He also appeared as Eddie in the 2016 television remake of the 1975 cult classic film The Rocky Horror Picture Show: Let's Do the Time Warp Again.
X Factor Australia

[

]
On June 21, 2016, Lambert announced on Twitter that he will be joining the judging panel on the eighth season of X Factor Australia where he mentored that season's winner, Isaiah Firebrace.
Official Account
[
]
Personal Life
[
]
In February 2011, Lambert admitted to Entertainment Tonight Canada that he was dating someone but refused say the person's name. A Finnish tabloid later started running stories about Lambert being seen with Finnish reality TV personality Sauli Koskinen, who won the Finnish version of Big Brother in 2007. Reports later came out about the two spending time together in Paris, and Koskinen was later spotted in Los Angeles. However, Lambert prefers not to talk about his personal life.
Lambert and Koskinen announced their split on April 5, 2013.
Arrest
[
]
On December 22, 2011 Lambert and Koskinen were arrested outside of a bar in Helsinki, Finland after supposedly fighting with each other. Due to neither being injuried, charges were not filed.
Performances/Results
[
]
Week #
Song choice
Result
Audition
"Bohemian Rhapsody"
Advanced
Hollywood
"What's Up"[not aired]
Advanced
Hollywood
"Some Kind of Wonderful"
Advanced
Hollywood
"Believe"
Advanced
Top 36/Semi-Final 2
"(I Can't Get No) Satisfaction"
Advanced
Top 13
"Black or White"
Safe
Top 11
"Ring of Fire"
Safe
Top 10
"The Tracks of My Tears"
Safe
Top 9
"Play That Funky Music"
Safe
Top 8
"Mad World"
Safe
Top 7
"Born to Be Wild" - Easy Rider
Safe
Top 71
"If I Can't Have You"
Safe
Top 5
"Feeling Good"
Bottom 2
Top 4
"Whole Lotta Love"
"Slow Ride" with Allison Iraheta
Safe
Top 3
"One" (Simon's Choice)
"Cryin" (Adam's Choice)
Safe
Top 2
"Mad World" (Adam's Choice)
"Change is Gonna Come" (Simon Fuller's Choice)
"No Boundaries" (Coronation Song)
Runner-Up
Note 1: Due to the judges using their one save to save Matt Giraud, the Top 7 remained intact for another week.
Glee

[

]
On July 10, 2013, Glee creator Ryan Murphy announced via Twitter that Lambert, who had auditioned for Glee long before trying out for Idol, ouold be joining the show starting in fall 2013. Lambert, who later confirmed it, is the second Idol alum after season 11 runner-up Jessica Sanchez to join the popular Fox show. According to Glee star Chris Colfer during an interview on Live with Kelly and Michael, Lambert's character, Elliott "Starchild" Gilbert, would be a nemesis to Colfer's character, Kurt Hummel.
Lambert made his Glee debut on November 7, 2013 in an episode entitled "A Katy or a Gaga". He took on the Lady Gaga hit "Marry The Night" and got to sing with co-stars Naya Rivera, Lea Michelle, Chris Colfer, and fellow guest star Demi Lovato on the Katy Perry hit "Roar".
Discography
[
]
Albums:
For Your Entertainment (2009)
Trespassing (2012)
The Original High (2015)
EP(s):
Live albums:
Gallery
[
]
Videos
[
]