Brett "Ace" Young (born November 15, 1980 in Denver, Colorado) is an American singer, Grammy-nominated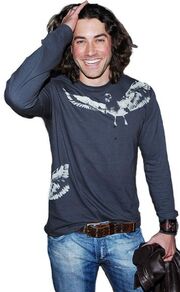 songwriter and actor. He came to national recognition upon appearing on the fifth season of the popular reality television talent show, American Idol, although he was eliminated from the competition on April 19, 2006, finishing in seventh place.
On May 12, 2008 Ace appeared on FOX's hit show Bones alongside season six American Idol Contestant, Brandon Rogers.
Young, who is of German and Irish descent, was raised in Denver, Colorado, growing up in the same Boulder neighborhood as actress Jessica Biel and American Idol Season 2 contestant Samantha Cohen. He is the fifth and last son of Jay Young, a retired minor-league baseball player, and Kay Whitney, a cosmetologist and member of the Mormon Church (although Young himself is not a member of the Mormon religion, but rather a non-denominational Christian). Young has four older brothers: Josh, Duff, Marc, and Ryan. He was named after his maternal great-grandfather, Asa, and after baseball player George Brett; he has been called Ace by his family since his childhood and did not know his legal name until he was six years old.
Young, who has been singing since the age of nine, attended voice lessons and performed at local shopping malls and recreation centers during his youth. He performed at various venues in Colorado and other western states, most notably at the Pepsi Center in Denver. Young graduated from Fairview High School, his local high school, in 1999, having participated in athletics, choir, and International Baccalaureate classes during his school years.
After his high school graduation, Young opened for Brian McKnight and New Edition, and sang the national anthem at Denver Nuggets games. His first published song, "Reason I Live" was featured in the 2000 film The Little Vampire.
In 2003, Young moved to Los Angeles, California, where he initially worked in sales and home remodeling. During this time, he guest-starred in an episode of Half & Half, playing a character named Ace Blackwell.
Young auditioned for American Idol in Denver, wearing a tuque beanie and singing a rendition of Westlife's "Swear It Again" and was unanimously passed on to the next round. American Idol judges Paula Abdul and Randy Jackson approved his entry, with Jackson noting that Young was one of the best singers he had seen audition. Simon Cowell disagreed with Abdul and Jackson but also approved Young, with a small "yes". He was introduced as Brett Young, with the name 'Ace' marked in quotations. Later, he told them he preferred to be called Ace, and the quotes were removed from his credits.
On April 4, the fourth week of the finals, was a designated country songs theme with Kenny Rogers. Young sang "Tonight I Wanna Cry," and received fairly positive reviews. Jackson said it was living proof that Young was single, and Abdul said the song was perfect for his range and that he sang an adequate rendition of a contemporary country music hit. Cowell thought Young had made a good song choice. Kenny Rogers also gave him very positive reviews, and later Young said he got the best advice from Rogers.
On April 18, the sixth week of the finals, was songs from the Great American Songbook week with Rod Stewart. He sang "That's All." For this performance, Young had his hair tied back and was dressed up in a McQueen designer suit. Jackson commented that Young stumbled in the middle, but did well overall. Abdul commented that she liked the "new Ace" and called it "a magical night." Cowell said "it wasn't bad," but while he said the middle was a bit nasally, he called the performance "charming." The following night Young was placed in the "bottom three" with Chris Daughtry and Bennett and was eliminated.
On April 26, Young performed as a guest on Total Request Live, singing an original song called "Don't Go" a cappella; the song will be included in his upcoming album. He has also appeared at the grand opening of The Camden House of Beverly Hills (an event showcasing rising stars under the age of thirty), was invited to the 2006 White House Correspondents' Association dinner, sang the national anthem at a summer Colorado Crush game and hosted a solo concert at the Pepsi Center. Young continues to perform at the Pepsi Center in Denver. He was named one of People Magazine's "Hottest Bachelors" on June 16, 2006.
On October 20, 2006 , he released his first single "Scattered," with help from friend Elvio Fernandes, a musician in Rochester, NY. a digital download on iTunes Store.
Young helped write the chorus to Daughtry's debut single, "It's Not Over."
Young appeared and sang on the 2006 Walt Disney Christmas Day Parade along with fellow idol finalists Paris Bennett, Kevin Covais, and Mandisa.
On December 6, 2007, the 50th Annual Grammy Award nominations were announced and Young was nominated for Best Rock Song, alongside Gregg Wattenberg, Mark Wilkerson and fellow American Idol alumnus Chris Daughtry, for his songwriting credit in Daughtry's debut album lead single It's Not Over. He lost to Bruce Springsteen's "Radio Nowhere.".
In January 2008, Ace was named a Celebrity Ambassador for the Muscular Dystrophy Association (MDA), where he will spend time assisting the charity with events and raising awareness for neuromuscular diseases.
On April 15, 2008, Ace released his second single, "Addicted", available on iTunes and Amazon.
His well-received first video debuted in April 2008 on Myspace.
On May 12, 2008, Ace made an appearance on the TV show Bones. Playing the part of a karaoke singer that ends up being murdered. He sings Nickelback's song `Far Away`.
On May 22, 2008, Ace was confirmed on an episode of TNA IMPACT that he will be at the performance of the wedding of So Cal Val and Jay Lethal.
Ace appeared on TNA Impact on Thursday May 29th, and debuted a new version of his "Addicted" music video, and also came out ringside with So Cal Val to support Jay Lethal and Sonjay Dutt in their match.
Ace appeared on TNA Wrestling's Slammiversary, and surprisingly got into the ring after Sonjay Dutt destroyed the wedding scene.
Young's self-titled debut album was released on July 15, 2008. Ace teamed up with veteran songwriter and producer Desmond Child. Ace co-wrote seven of the eleven tracks on the album.
Ace will be again performing on the Jerry Lewis MDA Labor Day Telethon August 31 and September 1 live from Las Vegas. New for 2008, he will also be co-hosting several segments of the live television broadcast.
On November 23, 2008, Ace made an appearance as a bachelor on the VH1 show, Rock of Love: Charm School.
Young recently made his Broadway debut as Kenickie in the revival of Grease from September 9, 2008 to January 4, 2009.
Young co-wrote a song, "Good Goodbye, with his girlfriend(now wife), season 3 runner-up Diana DeGarmo, that was released digitally on March 20, 2012. The song debuted on the CBS soap The Young and the Restless, in which DeGarmo portrayed mobster's daughter Angelina, on March 23, 2012.
Young and DeGarmo will next team up to star in a national touring production of Jospeh and the Amazing Technicolor Dreamcoat, which will start in spring 2014.
Young is currently based in Los Angeles, California. His hobbies include playing the piano, football, baseball, and basketball. During his time on American Idol, Young befriended Chris Daughtry, whom he met at the Denver audition for the show. The two lived in the same apartments during the show's runtime, and following Young's elimination, he stated that he would step in front of a moving train for Daughtry any time. Fans of the pair have categorized them as "Chrisace" or "Chrace", while Young's fanbase became known as "Highrollers", a name based on a pun of the name "Ace".
Since 1999, he has worked voluntarily in the Children's Hospital of Denver, entertaining hospital-bound patients every Christmas. Ace always talks about his love for children and his desire for his own children one day. He has two nephews, Carter and Keeghan, and three nieces, Josh's daughter (name unknown), Renee and Aspen. Young also has a charity that he started last year, called Highrollers with Heart.
Young dated Half & Half star Essence Atkins. Young also made a guest appearance on the television series.
Aside from Chris Daughtry, Young has other American Idol friends. He befriended Paris Bennett, Lisa Tucker, Kevin Covais, Will Makar, Katharine McPhee, Mandisa, and Kellie Pickler from Season 5, and Chris Richardson and Blake Lewis from Season 6.
Young started dating season 3 runner-up Diana DeGarmo in 2010. The couple became engaged on May 23, 2012 when he proposed at the season 11 Idol finale in which she said yes. They were married on June 1, 2013.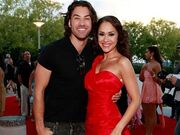 Community content is available under
CC-BY-SA
unless otherwise noted.